Synonyms
Introduction
Petroleum Jelly (also known as Petrolatum or White / Yellow Soft Paraffin) is an ointment-like homogenous, highly refined semi solid with a delicate balance between liquid and solid hydrocarbons for skin-care application and topical formulations.
We are manufacturing this product since 1964 in a dedicated facility. With years of experience and a varied clientele, we have an expertise in this field.
Typical Characteristics
1

Snow white to Yellow, translucent, odourless, when rubbed on skin and tasteless

2

Preserves the integrity of the active ingredient used to get the desired result

3

Smooth long-fibred structure is absorbed well by the body tissues ensuring that the active ingredient is effectively delivered
Applications
White / Yellow Petroleum Jelly find varied applications as an excipient in cosmetic and pharmaceutical formulations; some of which are:
1

Ointments

2

Pain balms

3

Cosmetic creams
4

Foot care creams

5

Hair food formulations

6

Eye applicaps
This product is used as an active ingredient in gauze dressings and skin protective formulations.
Petroleum Jelly is used as a general-purpose lubricant in the food industry.
Other applications include use in
1

Dental adhesive formulations

2

Hand cleansers

3

Sunscreens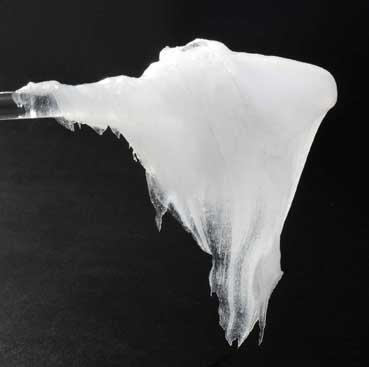 Aavantages of our Petroleum Jelly
Bright homogenous unctuous mass with excellent fibre and structural strength

Stable to light & oxidation

This product is made free from elemental impurities by multiple levels of purification and refining

Tailor made for skin-care and hair-care formulations

Maintains good structure during processing and congeals to form a smooth surface while packaging which adds to aesthetic value

Moisture loss resistance, high structural strength with oil retention property even at elevated temperatures

Product melting range, cone penetration and Viscosity can be adjusted to meet customer requirements.
Indian Pharmacopoeia [IP]
British Pharmacopoeia [BP]
United States Pharmacopoeia [USP]
European Pharmacopoeia [Ph. Eur.]
Japanese Pharmacopoeia [JP]
21 CFR 172.880
ICH Q3C (R4) for residual solvents
USP <467> for residual solvents
TSE/BSE free
Halal & Kosher
| | |
| --- | --- |
| HS code | 2712.10.90 |
| INCI name | Petrolatum |
| CAS number | 8009-03-8 |
| Physical state | Semi-solid |
| EC number | 232-373-2 |
| REACH Registration No. | 01-2119490412-42-XXXX |
Packaging
| | |
| --- | --- |
| Open-mouth MS drums (metal barrels) | 170 kg, 175 kg, 190 kg, 195 kg, 200 kg |
| Open-mouth HMHDPE drums (plastic barrels) | 170 kg, 175 kg, 190 kg, 195 kg, 200 kg |
| Tanker loads | 15000 kg, 20000 kg |
Neutral packing available

Petroleum Jelly is filled in double liner food-grade polythene bags. This is to avoid contact between the material and the MS material of the barrels.

Petroleum Jelly is also available without polythene bags in MS barrels or epoxy / lacquer lined / GI MS barrels.

The choice of packaging for Petroleum Jelly will depend on the facility to unload the material.
Please do Contact Us for Petroleum Jelly with tailor made specification.